Course dates: 20th August till 24th September 2020
Based on the practices and principles of Nonviolent Communication (NVC), this course is a unique opportunity to learn and practice new skills with a committed group.
Discover new approaches to make your conversations succeed, even when they are about touchy subjects. Feel more confident to express yourself and learn new ways to listen to and understand each other.
Use NVC tools to transform dialogue with your partner, talk to your children, with colleagues at work, relate to your parents and siblings, in business with your clients, be more honest with a friend, or to gain more self-awareness. They invite us to evolve slowly but surely towards collaborative, respectful relationships enhancing productivity, synergy and creativity.
In these six sessions we will explore the basic steps of NVC, learning and engaging through various interactive exercises. We will provide notes, video clips and suggest things to practice and try out in daily life in between sessions.
Our LIVE sessions will be taking place on Thursday evenings, from 19.30- 21.45 (GMT +1, Paris time).
Dates: 20 & 27 August, 3, 10, 17, 24 September 2020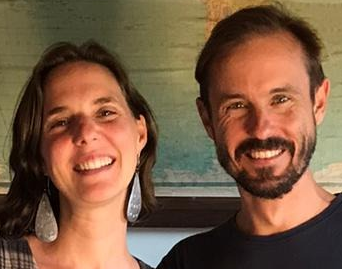 Sarah Dekker is passionate about integrating Nonviolent Communiction (NVC) with embodied spirituality. Her workshops offer ways to cultivate daily practices for living life fully and authentically, deeply grounded in compassion for one's self and others. Sarah's interest in individual and collective trauma healing has had her exploring various self development & healing modalities as well as attending numerous meditation retreats. Sarah is an internationally certified NVC trainer.
Nicholas Burnand is a certified Nonviolent Communication trainer and trauma therapist. His journey has taken him to remote places, spending hundreds of days in retreats, ceremonies, and workshops around the world. He is focused on creating safe spaces which foster transformation and awakening. Along with NVC, Qi gong and meditation he has found the Dyad method to be a deeply transformative practice. Through it he has discovered that empathy and authentic self-expression are a path to freedom from suffering – as the Buddha did 25 centuries before him.
"Having completed two foundation courses with Sarah I wanted to express how much this brought me in all realms of my life. It's been a game changer in relationship be it in the work place or personal life. I now have a whole toolbox of ways to connect with the life that's moving in me and to hear the humanity behind someone's words.
Sarah and Nic are masterful at holding courses and truly listening in to their participants, leading to lots of AH HA moments. The online course has been an excellent way to learn this new connective language - once you learn it you can't unlearn it!"
— Talli Pachter