Course dates:
7th January 2021-11th February 2021
Weekly Thursdays 19.00 - 21.15 (Amsterdam/Paris Time)
Our Zoom sessions are: 7, 14, 21, 28 January, 4 & 11 February 2021.


Join us for this LIVE intermediate online training module.
These sessions are geared towards deepening NVC practice beyond our Foundation Course and Intermediate Course Module 1.
Six Zoom sessions are facilitated by CNVC certified trainers Sarah Dekker and Nicholas Burnand. Participants will cover new theory & get an opportunity to practice their skills with other participants in break-out rooms.
In this module we will explore:
 3 choices – handling difficult conversations
Transforming enemy images
 Listening to the Chooser & Educator in me
 Self-forgiveness process & uncovering core-beliefs
 Naturalising NVC/ Street Giraffe
The beauty of Needs
Upcoming Courses & Bundle Options:
Save when purchasing courses upfront and together.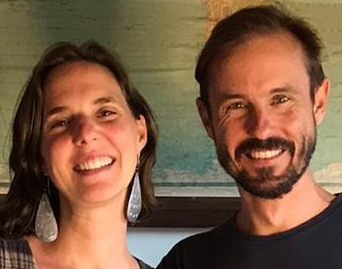 Meet the facilitators
Sarah Dekker is passionate about integrating Nonviolent Communiction (NVC) with embodied spirituality. Her workshops offer ways to cultivate daily practices for living life fully and authentically, deeply grounded in compassion for one's self and others. Sarah's interest in individual and collective trauma healing has had her exploring numerous self-development and trauma healing modalities and attend various meditation retreats. Sarah is an internationally certified NVC trainer.
Nicholas Burnand is a certified Nonviolent Communication trainer and trauma therapist. His journey has taken him to remote places, spending hundreds of days in retreats, ceremonies, and workshops around the world. He is focused on creating safe spaces which foster transformation and awakening. Along with NVC, Qi gong and meditation he has found the Dyad method to be a deeply transformative practice. Through it he has discovered that empathy and authentic self-expression are a path to freedom from suffering – as the Buddha did 25 centuries before him.